We will take you through the process of a typical auto move from start to finish.
First things first, get quotes from several auto moving companies. This can be done quickly and easily on the internet. No more days of sitting with the phone book spread out in front of you calling random auto shipping companies for quotes and information.
Next, you need to compare the quotes and services offered by each company. Once you have found the company that is right for you, accept their quote, and then contact the auto moving company to discuss pickup and delivery dates and other pertinent information.
After that, you will most likely need to fill out paperwork for the shipment of your vehicle. Mostauto moving companies will email, fax, or mail these forms to you. This preliminary paperwork is not the final paperwork that needs to be filled out to ship your car; this is just the formalities of accepting a quote and getting the process started. After submitting your paperwork to the auto shipping company, you are now considered one of their clients.
Right away, the auto moving company will begin working on planning your vehicle shipment. They will look for auto shipping carriers to use that can pick up and deliver your vehicle within a specified time-frame, have a good history of transporting vehicles, and have good communications with the auto moving company. Once a carrier is secured, you will be contacted with an estimated pick up date.
Soon after, your vehicle is picked up for delivery. The process takes about 20 minutes to complete. The driver will inspect your vehicle for any damages and will note them on the Bill of Lading. He will then load the vehicle onto the auto moving hauler, giving you a copy of the Bill of Lading before he leaves.
Finally, you will receive a call at least a day in advance from either the auto moving company or the driver to let you know your vehicle is almost there. Whether you chose door-to-door service or terminal-to-terminal service, you now know it is coming.
The very last step of this process is to make sure you are there to meet with the auto transport driver when he arrives with your vehicle. You want to be there to inspect your car for any damages and document them on your Bill of Lading if there are any. If you chose to pay for your shipment C.O.D., you will need to make that payment to the auto moving driver before he releases your vehicle to you.
These steps are taken in a typical auto transport. Obviously, everyone's experiences will vary, but this scenario was given to show that auto moving is easy and a lot less detailed for a consumer than some might imagine.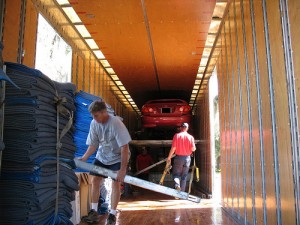 https://www.newenglandtoflorida.com/wp-content/uploads/2023/05/New-England-to-Florida-Logo.png
0
0
Jim Belletete
https://www.newenglandtoflorida.com/wp-content/uploads/2023/05/New-England-to-Florida-Logo.png
Jim Belletete
2013-11-01 11:05:00
2023-05-09 14:18:05
What Happens During Auto Moving